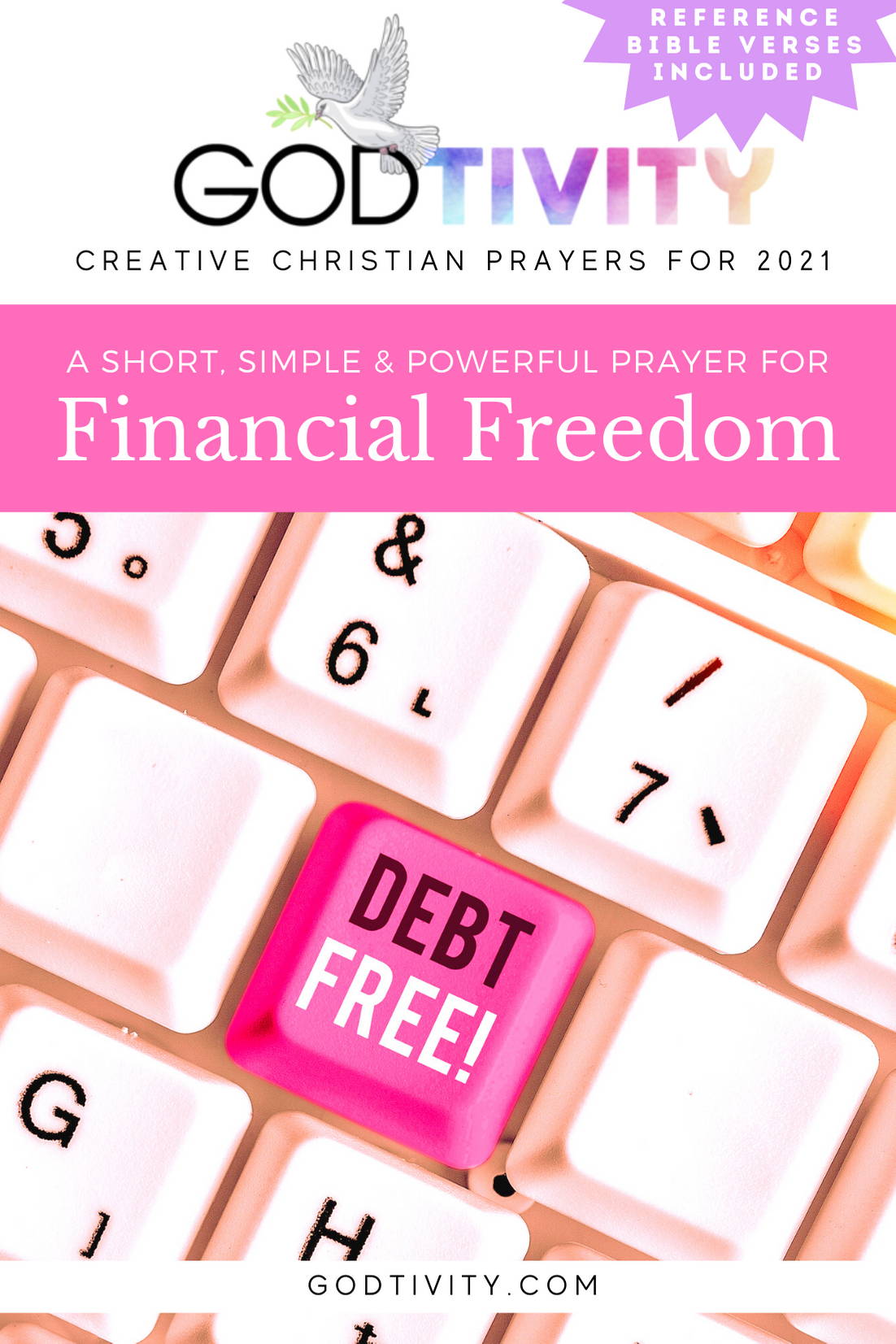 "Let no debt remain outstanding
except the continuing debt to love one another"
Romans 13:8


"Let no debt remain outstanding
except the continuing debt to love one another"
Romans 13:8


"Let no debt remain outstanding
except the continuing debt to love one another"
Romans 13:8
God never intended for us to owe debt, but 8 in 10 Americans are struggling to pay off debt. Jesus came so that we could have an abundant life, not a life filled with lack and debt. Weather it's student loans, credit cards, car payments and even your mortgage; it is possible to be debt free. Our Heavenly Father has called us to tithe and be generous givers, but when financial burdens enslave you it sometimes feels impossible to give.
I created this prayer as the 1st step in becoming debt free. It's an invitation for God to remove any misconceptions about your financial habits and help you step into God's promises for your finances. This is just the beginning! If you are really serious about being debt free I highly recommend you take Dave Ramsey's Financial Peace University. He has taught almost 6 million people the right way to manage money. You'll learn the timeless principles of paying off debt, saving for emergencies, and investing in your future. For more info visit https://www.daveramsey.com/fpu/
Abba, I know that you love me and that your plans for me are only to prosper me. I know with you all things are possible and when I am weak you give me strength. Abba, help me to take control of my finances. Give me the strength, dedication and wisdom needed to make better financial decisions. Open my eyes to see places how I can save, give and honor you with my wealth. Thank you that the storehouses and provision of heaven is open to me. Open new doors and opportunities and bless the work of my hands for increased income to tithe, pay off my debt and save. Grant me favor with all my lenders and debt collectors. Give me wisdom concerning my current and all future financial situations. Give me a heart for tithing and a let the only debt remaining be the continuing debt to love one another. I speak to the this mountain of $____________ in debt and I cast it into the sea, believing in my heart, that I am already debt free. Thank you Abba for supplying all my needs and for victory over debt and lack.
In Jesus name - Amen
Jeremiah 29:11 For I know the plans I have for you," declares the LORD, "plans to prosper you and not to harm you, plans to give you hope and a future.
Psalm 46:1 God is our refuge and strength, always ready to help in times of trouble.
Philippians 4:13 For I can do everything through Christ, who gives me strength.
James 1:5 If any of you lacks wisdom, let him ask God, who gives generously to all without reproach, and it will be given him.
Proverbs 3:9-10 Honor the LORD with your wealth, with the firstfruits of all your crops; Then your barns will be filled with plenty, and your vats will be bursting with wine.
John 10:10 The thief comes only to steal and kill and destroy. I came that they may have life and have it abundantly.
Psalm 37:21 The wicked borrows but does not pay back, but the righteous is generous and gives;
Deuteronomy 28:12 The LORD will open the heavens, the storehouse of his bounty, to send rain on your land in season and to bless all the work of your hands. You will lend to many nations but will borrow from none.

Mark 11:23 "Truly I tell you, if anyone says to this mountain, 'Go, throw yourself into the sea,' and does not doubt in their heart but believes that what they say will happen, it will be done for them.
Romans 13:8 Let no debt remain outstanding except the continuing debt to love on another
Philippians 4:19 And my God will supply every need of yours according to his riches in glory in Christ Jesus.
Proverbs 22:7 The rich rule over the poor, and the borrower is slave to the lender
Have a great bible verse to add? Leave it in the comments below.